Interview with ACSL Board Member Mr David Penny
Sydney-based Board Member Mr David Penny has over twenty years experience in Church management, bringing to ACSL strong skills in best practice governance principles alongside a first-hand knowledge of Church structures. Currently the Executive Director at the Institute of Sisters of Mercy of Australia and Papua New Guinea (ISMAPNG), David has previously held executive roles within the Diocese of Broken Bay and Diocese of Wilcannia-Forbes.
In addition, David has significant experience in the management and governance of the not-for-profit organisations including the Centre for Christian Spirituality, Broken Bay Institute and Calvary Health Care. David is currently a Trustee Director of Calvary Ministries.
What has drawn you to this role on the ACSL Board?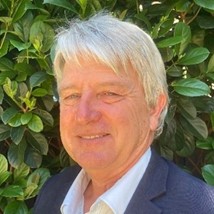 I have had many great opportunities to work and be involved in many areas of the Catholic Church within Australia. I have an interest in good governance and a desire to see change coming out of the findings of the Royal Commission into Institutional Responses to Child Sexual Abuse.
What type of work background do you come from? What makes you passionate about this work?
I worked in health management for many years and for the last 20 years in what you might call Church management. In particular, I worked in the Diocese of Broken Bay with Bishop David Walker for 17 years and it was during this time that the extent of the sexual abuse crisis became clear. I was interested in how we got to that point. This interest led me to undertake further studies in the area, including a Masters Degree in Pastoral Theology. Since then, I have been involved in the different ways the Church has attempted to engage with abuse survivors. This background has informed my belief that we all have a role in ensuring that task is managed appropriately in future.
What do you hope to achieve in your term on the board? What voice/perspective/expertise do you want to bring to the governance of ACSL?
I hope that my experience and links within different Church sectors – within dioceses, religious institutes and Ministerial Public Juridic Persons (PJPs) – will assist in our collective approach to support all Church leaders in ensuring everyone is safe when engaging with Catholic Church entities in Australia.
Are there any overarching guiding principles or values that guide your approach to your role on the Board?
I strongly believe that we are all in this together. While some have specific roles, we all have some level of responsibility to be involved and take action. After all, much of the crisis has occurred because too many people did nothing when they should have spoken out and taken action.
What are you looking forward to most for ACSL in 2021? What do you anticipate will be the biggest challenges for ACSL in 2021
I am looking forward to the development of a more appropriate risk management approach when considering the various activities undertaken by Church entities and then the application of the National Catholic Safeguarding Standards. I also hope that ACSL can provide leadership in the resolution of complaints in ways which give all parties fairness in the approach and outcomes.
The biggest challenge ahead for ACSL is to bed down all the aspects of this new entity and gain the confidence of Church authorities that ACSL can really assist them in their responsibility to ensure the safety of all in their respective areas.
The ACSL Board is deeply committed to developing ways to support Church Authorities to meet and exceed their responsibilities for the safety of all within their communities, with a worldview that we all need to act if there is to be real change in this area.